Ceramics products Porous Ceramic Chucks
Products
Porous Ceramic Chucks

Ceramic Chucks

Porous ceramics are unique in their countless number of pores that allow liquid or air to pass through. We took advantage of this principle to develop a vaccum chuck using porous ceramic material. Before this, fine holes had to be drilled manually.
However the indentations around the holes were found to be damaging the circuits on ultra-thin wafers. This new type of porous chuck solved that problem, opening the door to many new opportunities that allow users to hold wafers in non-damaging ways.
Applications
Porous Ceramic Suction Pads

Vacuum Chucks

Porous Ceramic Suction Stage
Porous ceramics, composed of microscopic holes, are suitable for suction adhesion of workpieces like thin wafers and films.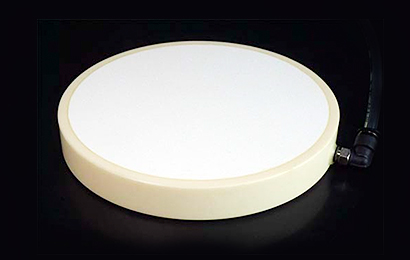 Suction component: Porous alumina ceramics: AZPW-40
Peripheral component: Dense alumina ceramics: AR-99.6
Ceramics can withstand harsh environments heated up to several hundred degrees celsius. This is the conditions under which porous resins cannot be used. We can customize components in ways that perfectly match with the shape and material of the wafer, with your equipment and conditions.

We will respond to your various dimensional and material needs to match your exact specification.

Even if you require only a single piece for evaluation, do not hesitate to contact us. We are eager to customize chucks for multiple workpieces or for your testing purposes.
Originally Developed by ASUZAC
Thin Porous Chucks – Grip Test

SiC Porous Ceramics
Chucks Grip Test
Flex Comparison
Conventional Rubber Pad

ASUZAC Porous Ceramic Pad
- With a rubber pad, the workpiece bends. However the flat surface of a porous ceramic pad grips the workpiece evenly, eliminating flex.
- Residual suction marks are also prevented.
Air pressure for leviation: 0.3MPa (Φ300 x 0.7T Dummy Wafer)
Non-contact Levitating Porous Ceramic Stage
Eliminate scratches and contamination caused by glass substrates, wafers, films, or electronic components coming into contact with the transport equipment!

Due to even air flow emitted from the entire surface of the porous ceramic stage, the workpiece can be lifted without any contact with the stage.
Reduce scratches

Damage from contact is reduced or eliminated!

Maintenance-free

As there is no need to use consumable parts such as bearings and rollers, operation can be maintenance-free, and the equipment can be made compact!

Facilitate transportation

Since porous chucks can be used for levitatation, it is easy to transfer the wafer to the next process!

No metal contamination

As the porous material is a high-purity ceramic, it does not generate any metal contamination!
Contact Type - Transfer Method
Roller conveyor, etc.

Non-contact Type - Transfer Method
Levitation by porous ceramics
Materials and sizes are customizable to your needs and applications.
Small / Thin Chucks

Suction component "Porous Silicon Carbide: AZPS-40" Peripheral component "Dense Alumina: AR-99.6"

Small and thin chucks help reduce the size and weight of the equipment and expand the work space in your fab!

Even at a thin 2 mm, the entire chuck surface can grip the wafer. Therefore, it is possible to replace the vacuum holes of an end effector to porous ceramic material.

Black Chucks

Suction component "Porous Black Alumina: AZPWB40" Peripheral component "Dense Black Alumina: ARB99.6"

Black Alumina suppresses the reflection of light for use in optical applications.
Ceramic Hand Comparison
Conventional Wafer Hand

Several holes are required for suction.
These holes create dents on thin wafers.

ASUZAC Porous Wafer Hand

By embedding porous ceramics into the ceramic hand, replacing the vacuum holes, thin wafers can be gripped without leaving marks or damage.
Porous Ceramic Hand / Chuck Comparison Experiment
Contact Us
Customizable from single quantity orders.
Please feel free to contact us.
ASUZAC Inc.
Fine Ceramics Division

Opening hours:9:00~17:00(Sat, Sun closed)

FAX : +81-26-251-2160