Ceramics products Firing Jigs setters
Products
What are setters and firing jigs?

Setters are a kind of shelf or ceramic jig used in a furnace for stacking up electronic parts and glass to be fired or baked.
Materials used for setters include Alumina, Silicon Carbide (SiC), Alsima L (low thermal expansion ceramic), Porous ceramics and more, and will be chosen depending on the use and application.
If you have any questions regarding the shape, thickness, and sizes of your requested setter, or inquiry for additional surface treatment, please feel free to contact us via phone, fax, email or the inquiry form at the bottom of the page.
We will make use of our ample expertise with setters for semiconductor and display industries, and make a proposal that meets your quality requirements.
Features
High strength and density ceramic allows thin setter plate heights. High-purity ceramics reduce contamination of your workpiece and its environment.
Product Examples
Thin & Hard SiC Setters

Square setters up to 300mm in length are possible.
Feel free to contact us for other sizes and shapes.

Depending on the material and heat treatment conditions of the workpiece, contact with SiC may cause "abnormal reaction", "carburization", "adhesion", and "sticking".
We can provide samples for you to confirm how your workpiece will react. If the problems happen, solutions that retain light-weight are available, such as film treatment or using porous alumina with SiC.
Please feel free to contact us for more details.

SiC (Silicon Carbide) Saggar

A saggar is a thin, protective box for firing delicate workpieces in the kiln.
Our SiC saggar is light and withstanding high temperatures. Excellent thermal conductivity contributes to furnace productivity.
These properties allow for more workpieces to be fired while reducing the load on the furnace base.
Sample plates for checking the reaction between the fired workpieces and SiC can also be provided.

Porous Alumina Setter

Our Porous Alumina Setter has the following benefits:
・Increased efficiency of degreasing when sintering MIM (Metal Injection Molding), sintered metal, and ferrite.
・Solutions to prevent the issues such as abnormal reactions, carburization, adhesion, or sticking which occurs when the workpiece directly touches the firing jig.
Porosity allows oil vapor to escape evenly from above and below.
Porous alumina setters are recommended for those who are looking for a thin and lightweight firing jig!
It can be customized to your required size.
A wide range of applications are possible when used in combination with a thin (2mm) and light, heat-efficient SiC setter.
Comparison
Alumina
Dense and hard, corrosion-resistant with chemicals. Purity - 99.6% or 99.99%
 
Alumina 99.6%
Long & narrow ceramic plates
Alsima L
Good heat-shock resistance, adaptable to rapid change in temperature, as in heating-up and cooling-down.
 
Alsima L
Low thermal expansion material
Porous
Porosity (or fine holes) can reduce weight of the product. Porous ceramics serve as de-greasing material.
Porous alumina, Porous SiC
 
Porous Alumina
Data
By changing purity and materials, heating speeds up. As a result, the time required for reaching intended temperature can be dramatically shortened.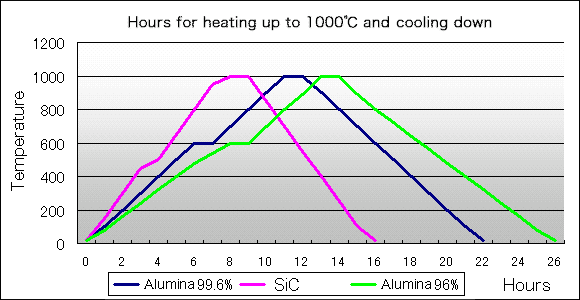 The data is just an example for comparison by material and vary depending on the size and specifications of the actual products.
Example: Reduce cost by shotening the time for heating up furnace
Firing jis made of 99.6% alumina are on sale. This jig has good thermal conductivity that helps heat up a furnace very quickly. Consequently, gas and electricity for pepraring the furnace can be saved.
Creep Test of Firing Board
*Size of test piece: 150 x 150 x 1.3mm
*Weight: 783g
*Firing temperature: 1600 degree celcius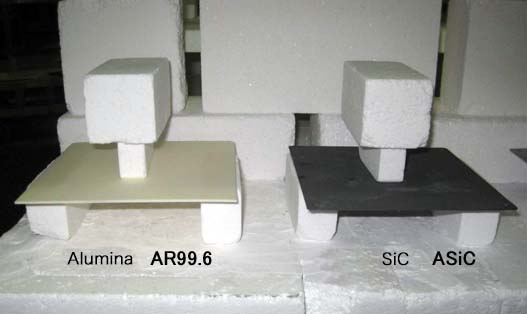 Heat up to 1600 degree celcius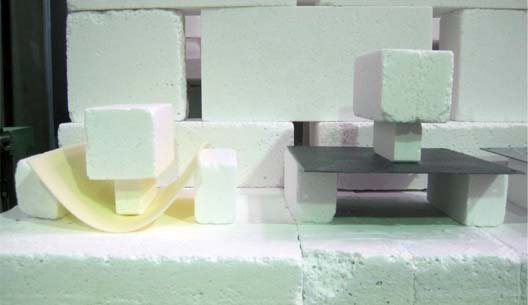 ↓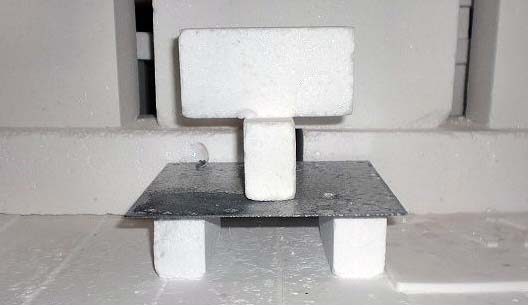 No deformation even after repeated use under 1600 degree celcius

However, it cannot be guaranteed as it depends on the shapes and conditions.
Something that looks white on the suraface is oxide film.
Alumina plates deformed but SiC did not!!
Choose SiC plates excellent in heat resistance.
Thin and Light SiC Setters
Thin and lightweight SiC setter High heat conduction and high strength SiC has been finished into a "thin" and "lightweight" firing jig!!
Advantages:
1) Heating and cooling can be done in a short time, reducing firing time.
2) Reduce energy consumption
3) Stable furnace temperature
4) Long life due to high creep resistance and spalling resistance
5) Reduce work load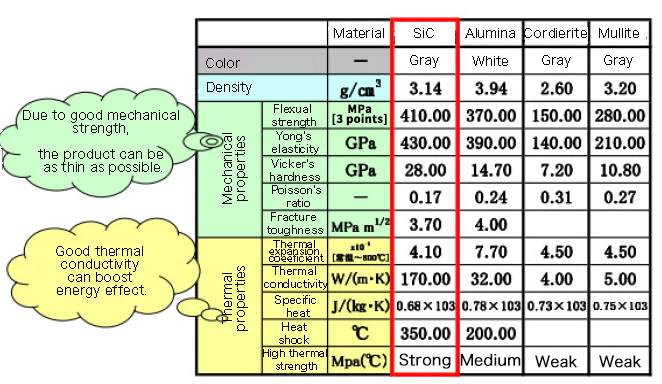 The number of workpieces can be increased!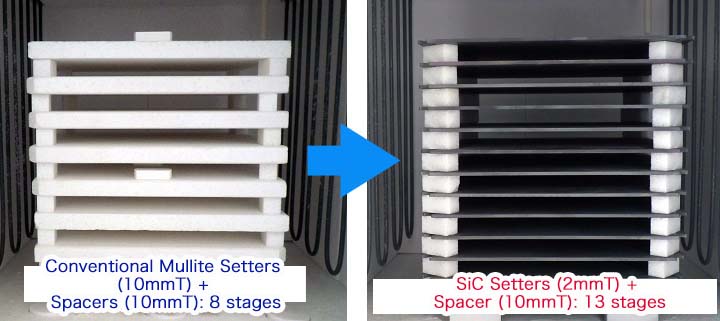 Because SiC setters can be made thinner, the number of SiC stages will be 15 in total, which is 1.5 times the number of Mullite stages.
Comparision Test under 1600 ℃: Conventional Mullite setters vs New SiC setters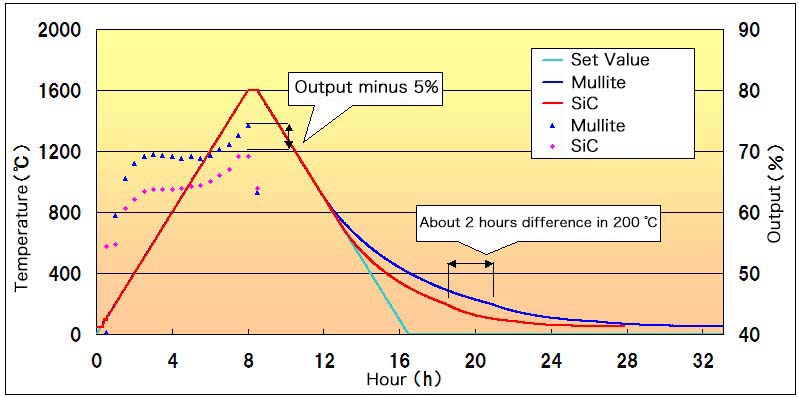 By integrated production line from raw material development, firing, to machining, ASUZAC can create products for special application, research and new develpment.
Holes, grooves, steps (legs), coating and bonding are possible with advanced molding and processing technologies.
We are willing to produce even a small lot from one single order.
First, try the sample to check reactivity with your firing workpieces.
Contact Us
Customizable from single quantity orders.
Please feel free to contact us.
ASUZAC Inc.
Fine Ceramics Division

Opening hours:9:00~17:00(Sat, Sun closed)

FAX : +81-26-251-2160